MULTI FLEX Front Mount Hydraulic Helm Pump 40cc LMHP40
Hydraulic Helm Pump
MULTIFLEX
MADE IN INDIA
Features
 Built in lock valve
 Pressure relief feature
3/4" tapered shaft to suit all marine steering wheels
 Includes ORB fittings
Volume :40cc
Function:
A helm pump is an Axial Piston Manual pump . The function of the helm pump is to push oil in the hydraulic circuit when the steering wheel mounted on the pump shaft is rotated.
The helm pump is usually fitted with a lock valve to prevent the rudder feedback to the steering wheel . Also for safety, the pump is fitted with a relief valve.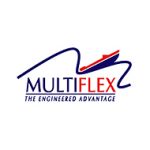 Availability: Out of stock