Steering Helm
MULTIFLEX
MADE IN INDIA
Easy Connect, Quick installation
Applicable for Boat Length : 9 mtr for Out Board and 10.5 mtr for Inboard
Helm Cover : High Pressure die Cast Zinc Alloy
Shaft : Galvanized Steel
No. of Steering Wheel Turns : 4 Approx.
Maximum Steering Wheel Dia : 16 inch (400 mm)
Powder Coated options for increased corrosion resistance.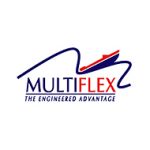 Availability: Out of stock